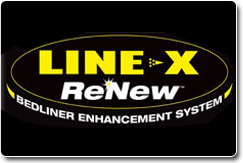 At LINE-X, we know your truck is much more than a vehicle to you. It can be your workhorse or your plaything. Either way, it takes a serious beating, with your spray-on bedliner taking the brunt of it all. Which is why we've created LINE-X ReNew.
LINE-X ReNew is a bedliner enhancement system that can be used to repair and enhance any spray-on bedliner to the quality of a LINE-X Spray-On Bedliner.
THE ONLY SYSTEM OF ITS KIND
LINE-X ReNew is the only bedliner enhancement system available that repairs and enhances your current spray-on bedliner.  It is so revolutionary that Frost & Sullivan awarded LINE-X Renew its coveted Product of the Year Award in 2008.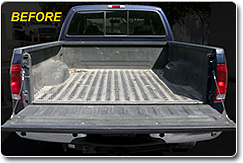 Unlike other repair systems, LINE-X ReNew enhances the bedliner's looks and durability, but does not require your current spray-on bedliner stripped from your truck, a costly and unnecessary step.  This means you get the serious protection and killer looks of a LINE-X Spray-On Bedliner at about the price you would pay to have your truck detailed.
PERMANENT BOND
LINE-X ReNew is a proprietary surface treatment that permanently bonds to your existing spray-on bedliner, which allows it to smooth out any rough patches caused by years of use and abuse.
STRONGER PROTECTION THAN YOUR OLD BEDLINER
LINE-X ReNew, a
man-made material that is five times stronger than steel, making your truck bed stronger than just about anything you can put in it.
UV PROTECTION – FADE RESISTANCE
Over time ultraviolet light radiation can affect the appearance of your bedliner, making it lose its luster as it fades. LINE-X ReNew returns your bedliner to its original luster, and then, like a sunscreen, helps to minimize future UV damage.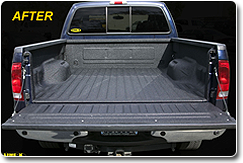 LINE-X ReNew is a bedliner enhancement system which enhances & repairs your sprayon bedliner. It also provides UV protection to your bedliner from ultra violet radiation & future UV effects.