Have an unparalleled 92% customer satisfaction as measured in a recent study*
In a series of independent studies conducted by CONSTAT in the Fall of 2006 and 2008, LINE-X customers were so satisfied that they are most likely to not only purchase the product again, they will also tell their friends and family about it.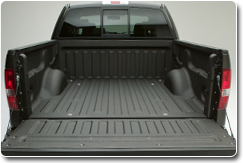 Are guaranteed with a Nationwide Lifetime Warranty
LINE-X guarantees the highest quality, professional installation. A LINE-X Spray-On Bedliner is guaranteed not to crack, bubble or flake for as long as you own your truck. Plus, even if you damage your truck and it's not covered by the warranty, LINE-X can still be seamlessly repaired at your nearest location.
Are tough and durable
With a higher tensile strength than the "softer" spray-ons from our competition, LINE-X provides unmatched protection against gouges, rips and tears.
Are sound-dampening, impact absorbing, awe-inspiring
As soon as it's on, you'll notice less road noise, and a rattle-free, quiet ride when compared to an unprotected or drop-in liner. And the thick, textured impact-absorbing surface of LINE-X Spray-On Bedliners also protects cargo from shifting.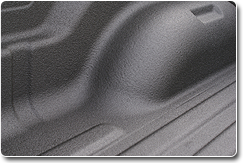 Have no lost cargo space
With no lost cargo space, bed lids, camper shells, 5th wheel hitches, tie-downs, utility boxes, etc. all fit great because LINE-X molds to the precise surface of your truck bed. Typically, any inspection plates or tie-downs are removed, sprayed if applicable, and then reinstalled.
Create a watertight seal that keeps out damaging moisture
LINE-X permanently bonds to your truck bed, with a factory-like finish that follows every angle and curve to preserve precious cargo space while creating a watertight seal. No air gaps or drill holes to give water a place to hide – and rust a chance to take hold.
Protect against common chemicals
Independent tests show that LINE-X Spray-On Bedliners are resistant to most chemicals including chlorine, gasoline, diesel fuel, bleach, and most household solvents.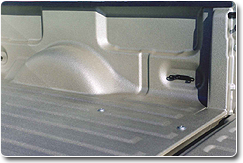 Add to your truck's value
Unlike many drop-in plastic bedliners, every professionally applied LINE-X bedliner contains tough polymers engineered to withstand years of heavy-duty use in the searing heat or arctic cold. What's more, according to the latest NADA Official Used Car Appraisal Guide*, a LINE-X Spray-On Bedliner adds to your truck's daily value – as well as its resale value at trade-in time. (*National Auto Dealers Association, 2006 edition.)
Available at over 550 locations worldwide
Over 2 and a half million satisfied customers with great-looking trucks
*(Source: Brand Awareness, Attitude and Usage, CONSTAT, Fall 2006 and Fall 2008)
We are focused on creating protective coating for a wide range of retail, industrial and other application needing extreme protection. LINE-X® develops its own material under rigorous quality controls to guarantee a consistent, durable application every time.