THE TOUGHEST, MOST PROTECTIVE BEDLINER AROUND. NOW IN COLOR.
That's right. The industry's premier Spray-On Truck Bedliner is now available in your choice of color. It's called LINE-X XTRA.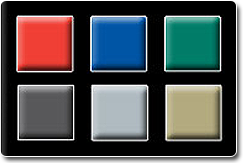 LINE-X XTRA delivers added protection against cracking, bubbling, peeling and color fading.
YOUR CHOICE OF COLOR
LINE-X XTRA can be color coded to your truck for the closest possible match—or sprayed in any color of your choice. Take a look at the LINE-X XTRA Gallery for a few ideas for your truck.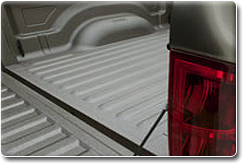 STRONGER PROTECTION
LINE-X XTRA, providing superior protection against scratches, gouges and punctures.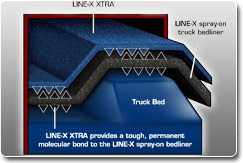 UV PROTECTION
Ultraviolet light radiation can affect the appearance of your bedliner. Like a sunscreen, LINE-X XTRA helps minimize UV damage.
SUPERIOR GLOSS RETENTION
LINE-X XTRA provides a long-lasting rich gloss that will give your truck bed that "just sprayed" look.
PERMANENT BOND
LINE-X XTRA permanently bonds to your LINE-X bedliner at the molecular level, creating a unique composite unlike any other.